rom very young, I was aware of the important role music plays in creating the atmosphere in films. The combination of sounds was fascinating and made me think...... " how do they do that "......?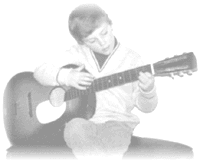 The learning curve began at the piano .... so many notes, not enough fingers.... Guitar soon followed and rock music ensued. After exploring the range of various instruments and the pleasure of recording my first ideas to tape my ambition was set for a career in music......
1986....... 'O' levels under my belt and three years hard labour in a City bank behind me - it was time to take the professional plunge! - the first production entitled "In at the Deep End"..... how true that was!.... From then, the way was really open to see " how they do that ", in various studios and rehearsal situations - including a summer as assistant sound recordist with the BBC.
..............we never stop learning and I still ask myself the same original question but that's part of the appeal for me; every production presents the challenge to offer a new musical thought!